Filter by Category
Health Education & Trainings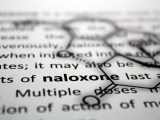 Naloxone Training
with PBMC Staff

Next available session starts Oct 21, 2021 at 12 pm
Naloxone is a life-saving medication that is used to counter the effects of drugs like heroin and prescription narcotics. Join providers from Pen Bay Medical Center to learn how to use naloxone to save the life of anyone who is experiencing an opioid overdose.
Advance Care Planning Workshop
with Vikki Swan

Next available session starts Oct 26, 2021 at 1 pm
1 additional session on Nov 17, 2021
Advance care planning is an organized process of reflecting upon and discussing goals for future health care decisions. It is an important part of creating an advance directive, which is a written plan that represents your individual preferences and tells others what medical care you want or do not want to receive if you become too ill in the future to tell them. Join trained advance care planning facilitator Vikki Swan for this online workshop where you will begin the process of filling out your advance directive. This class is free but pre-registration is required in order to obtain virtual access. Please note: After you are registered, shortly before the class starts you will receive an email with information as to how to participate in the class.