Filter by Category
Online Classes
Take a Break with Guided Meditation
with Jean Ashland

Next available session starts Dec 7, 2022 at 12 pm
Making time in your day to recharge and offer yourself the gift of presence is important for your well-being and can be as simple as tuning in for this virtual class. Find a quiet spot and sign in for as much of this short meditation break as you can. The class will begin with a 15-20 minute guided meditation, followed by 5 minutes of silent meditation and a brief time for reflections/questions.
The Gift of Pause: A Holiday Meditation Class
with Jean Ashland

Next available session starts Dec 14, 2022 at 12 pm
1 additional session on Dec 21, 2022
An offering of pause and quiet during this busy time of year.
All are welcome to join in guided reflections focusing on just being in the midst of all our 'doing'…
 A time to refresh and renew.
This session will run for 40 minutes.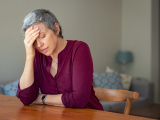 Navigating Concussion Recovery
with Moriah Hersey

Next available session starts Dec 20, 2022 at 12 pm
Healing from a brain injury takes a long time. Join facilitator Moriah Hersey, OTD, OTR/L, for this informative and interactive support group where you can share your struggles with concussion; learn more about concussions, treatment and outcomes; and connect with others who have had similar experiences. This program is free but registration is required to obtain virtual access.