Filter by Category
Women's Health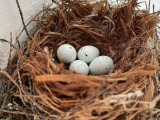 Held Support Group
with Leah Kohlstrom

Current session started Jun 6, 2023 at 6 pm
This support group provides a safe space for families grieving the loss of a child through miscarriage or pregnancy loss. Join Leah Kohlstrom and Claire Philbrook the first Tuesday of each month at Pen Bay Medical Center's Beebe Center to explore grief with tea and the occasional activity. This will be a space to share and process grief alongside others who have experienced similar loss.
Breastfeeding Support Group
with Lynn Tauss

Next available session starts Jun 7, 2023 at 11 am
3 additional sessions through Jun 28, 2023
This informal support group for breastfeeding families provides interaction as well as individual assistance when needed. Women wanting more information about breastfeeding are also welcome. Facilitated by a lactation consultant from the Women and Infants unit. Because of room occupancy restraints, we are limited to a maximum of 7 moms with babies in arms. Siblings will not be allowed at this time. Please call 207-301-8337 for more information.